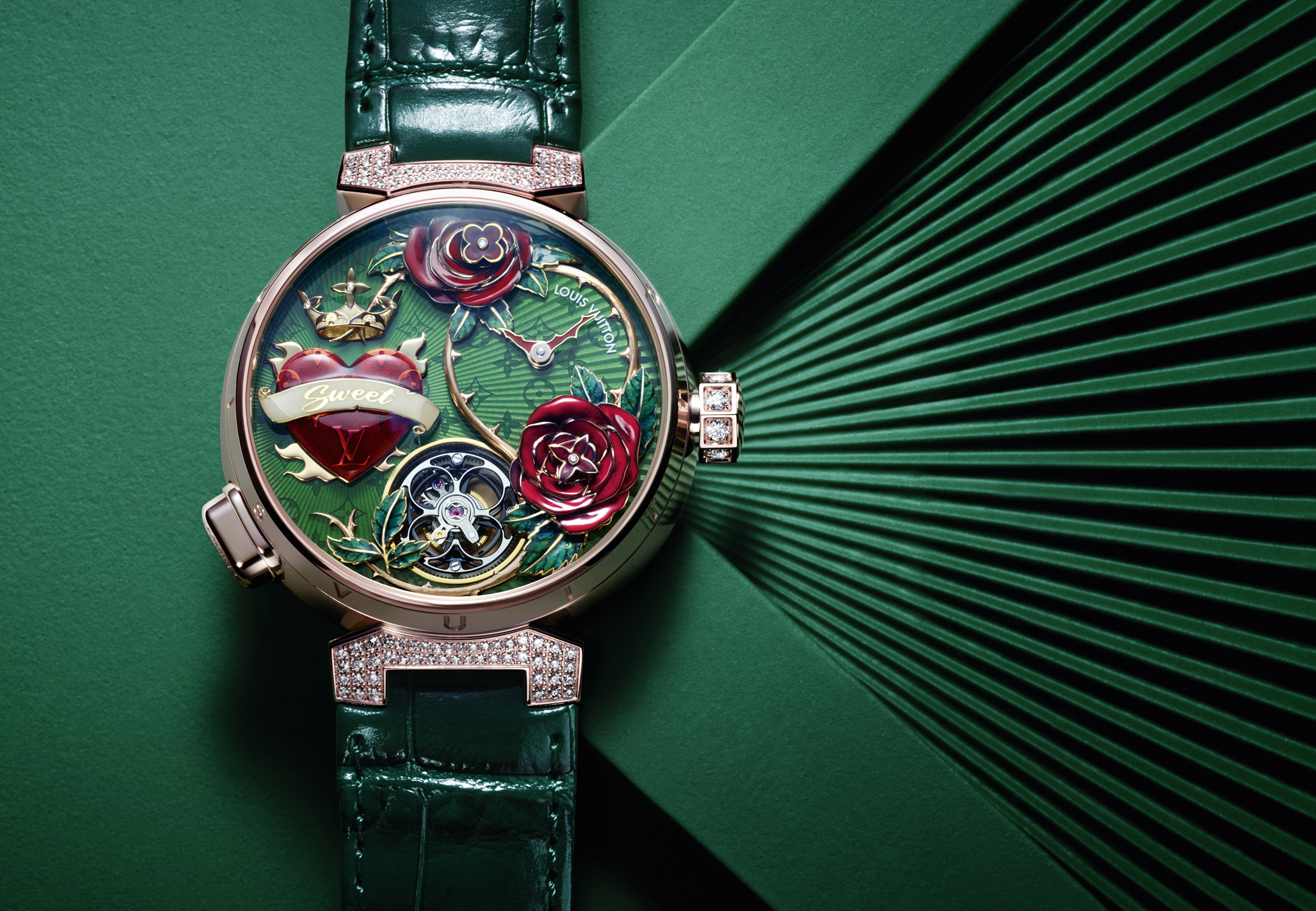 Tre eccellenze della Maison realizzate nell'atelier La Fabrique du Temps Louis Vuitton in Svizzera: Tambour Opera Automata, Tambour Fiery Heart Automata e Tambour Moon Tourbillon Volant Poinçon de Genève, tre orologi molto diversi tra loro, accomunati dalla precisione e dall'unicità.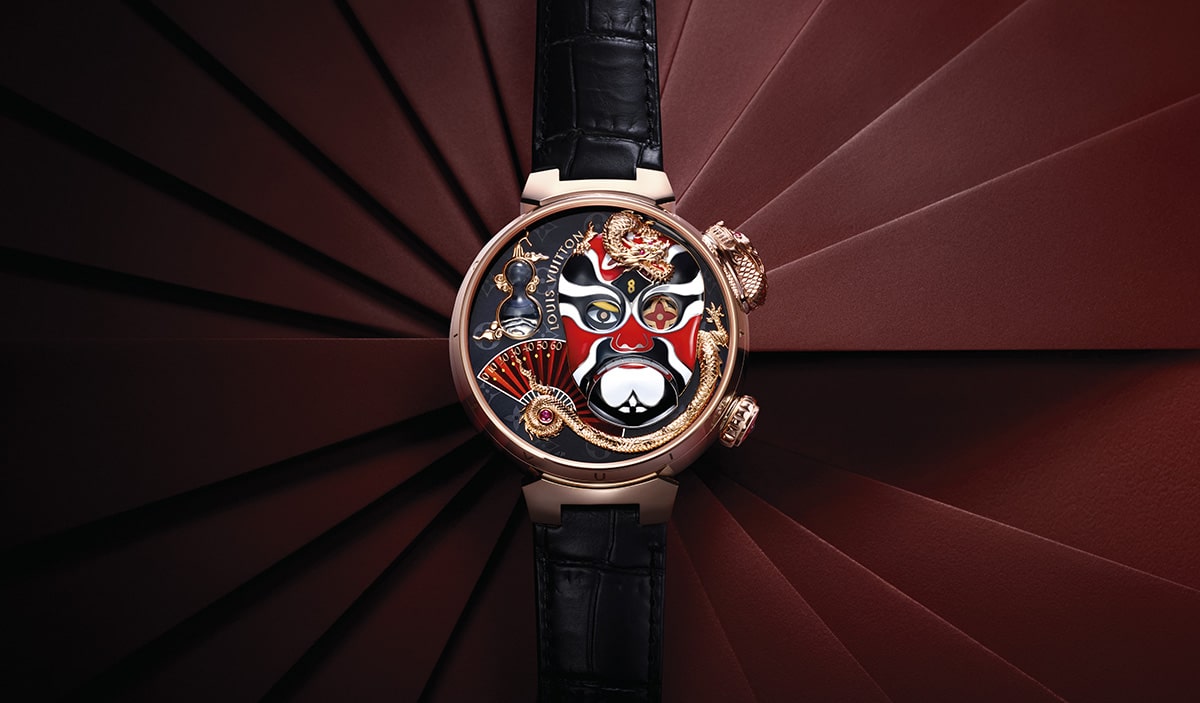 Il quadrante del Tambour Opera Automata è un tributo al Bian Lian dell'Opera di Sichuan e, come i suoi attori che durante una rappresentazione cambianno anche venti diverse maschere in un secondo con un gesto della mano o di un ventaglio, anche il personaggio inciso cambia espressione, su richiesta. Arriva dopo il Tambur Carpe Diem Automata, dedicato alla Vanitas – insignito dell'Audacity Prize al Grand Prix de l'Horologerie de Genève nel 2021. Per essere sviluppato, questo segnatempo con quadrante animato, ha richiesto oltre due anni di lavorazione e la collaborazione di Michel Navas ed Enrico Barbasini, Maestri Orologiai de La Fabrique du Temps, di Anita Porchet, Maestra Smaltatric e di Dick Steenman, Maestro Incisore.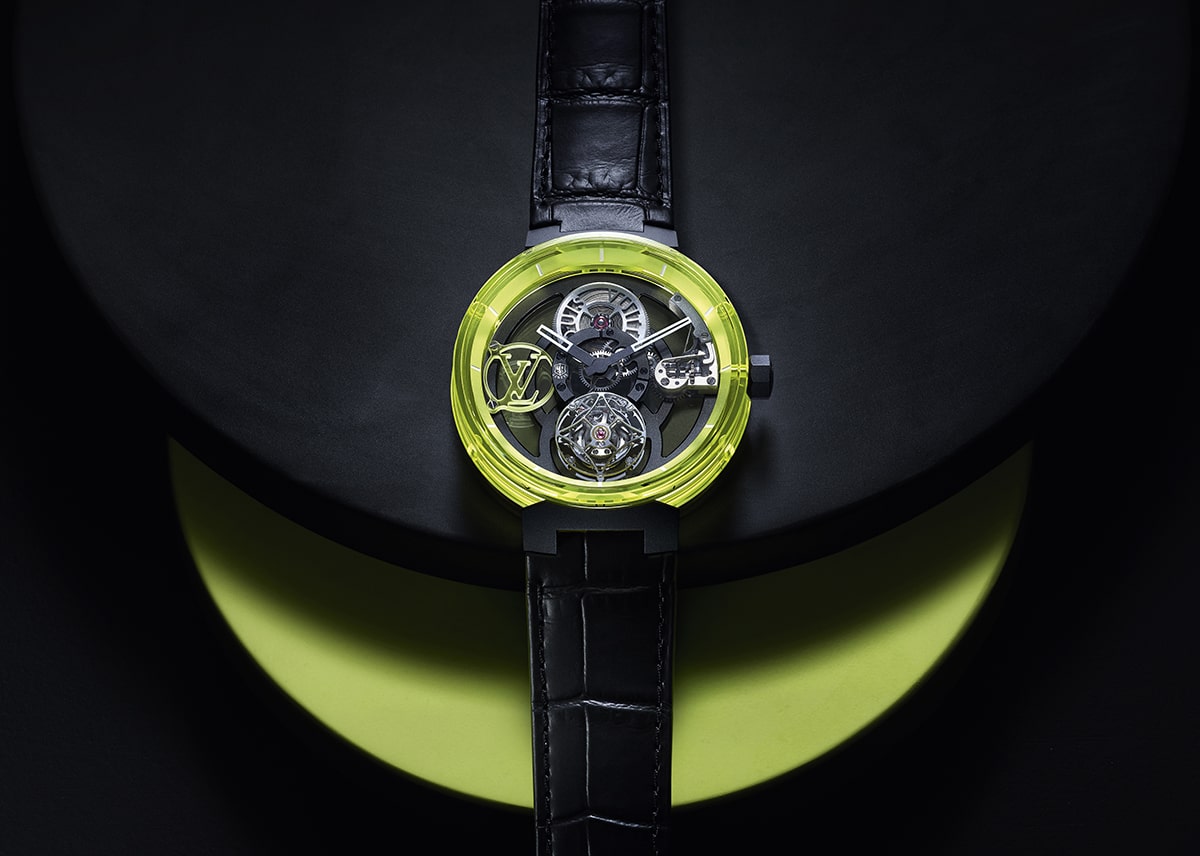 Tutt'altra storia il Tambour Moon Tourbillon Volant Poinçon de Genève che prende forma da un unico blocco di zaffiro sintetico (giallo o verde), indistruttibile come l'oro puro o il platino. La sua trasparenza lascia trapelare i segreti del movimento, originato da un tourbillon volante. Le anse sono in titanio trattato in PVD nero. Per far sì che carrure, fondello e ponte con logo LV presentassero l'identico colore, per ciascun orologio è stato necessario estrarre un cilindro di 50 mm di diametro e di 150 mm di lunghezza dal cuore di un blocco di zaffiro colorato di quasi 2 kg proveniente dal Giappone.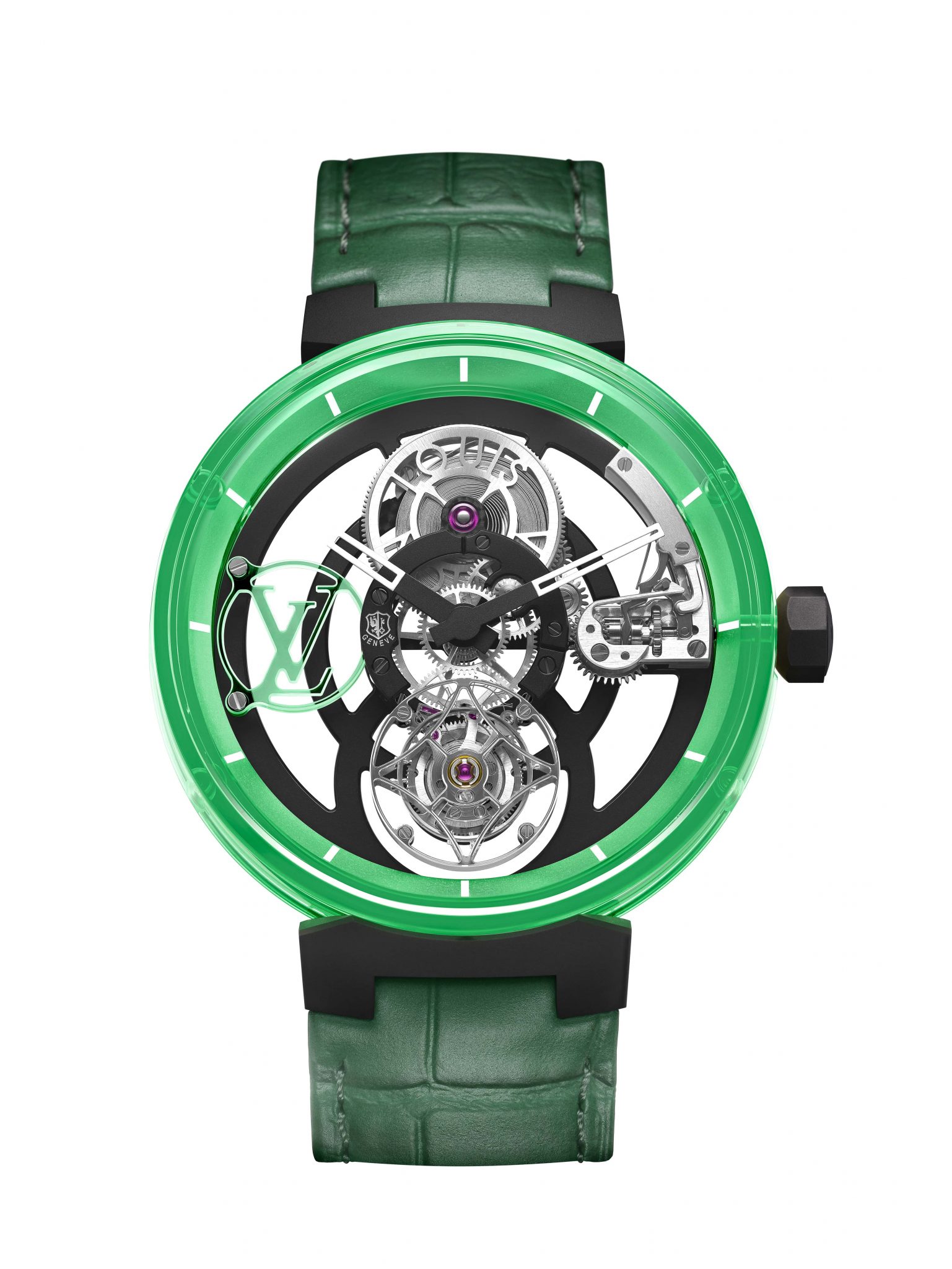 È da donna il Tambour Fiery Heart Automata, con corona di diamanti e tourbillon rotante. Il quadrante è una combinazione di smalto champlevé e cloisonné.

Il calibro automatico LFT 325 è visibile dal fondello in vetro zaffiro. Il movimento presenta ponti micropallinati decorati con steli di rose in oro rosa che evocano il motivo del quadrante. Le sezioni traforate espongono le ruote, mentre il brillante rotore in oro rosa 18 carati è anch'esso inciso e traforato con i fiori monogramma caratteristici del marchio. Presenta non meno di sette animazioni, attivate da un pulsante incastonato di gemme a ore 8. Le spine emergono e si estendono dal quadrante, i fiori monografici delle due rose smaltate ruotano, le fiamme attorno al cuore danzano prima che il cuore stesso si apra e riveli le parole: "Dolce ma feroce". Il cinturino è in alligatore verde con una fibbia in oro rosa come la cassa.
---
Louis Vuitton: Tambour Opera Automata, Tambour Fiery Heart Automata and Tambour Moon Tourbillon Volant Poinçon de Genève
Three excellences of the Maison made in Louis Vuitton's La Fabrique du Temps atelier in Switzerland: the Tambour Opera Automata, Tambour Fiery Heart Automata and Tambour Moon Tourbillon Volant Poinçon de Genève, three very different watches united by their precision and uniqueness.
The dial of the Tambour Opera Automata is a tribute to the Bian Lian of the Sichuan Opera and, like its actors who during a performance will also change twenty different masks in a second with a wave of the hand or a fan, the engraved character also changes expression, on demand. It comes after the Tambur Carpe Diem Automata, dedicated to Vanitas-a recipient of the Audacity Prize at the Grand Prix de l'Horologerie de Genève in 2021. To be developed, this animated dial timepiece required more than two years of work and the collaboration of Michel Navas and Enrico Barbasini, Master Watchmakers of La Fabrique du Temps, Anita Porchet, Master Enameller, and Dick Steenman, Master Engraver.
A different story altogether is the Tambour Moon Tourbillon Volant Poinçon de Genève, which takes shape from a single block of synthetic sapphire (yellow or green), as indestructible as pure gold or platinum. Its transparency lets out the secrets of the movement, which originated from a flying tourbillon. The lugs are made of black PVD-treated titanium. To ensure that the case middle, case back, and LV logo bridge feature the identical color, a cylinder 50 mm in diameter and 150 mm long had to be extracted for each watch from the heart of a nearly 2-kg block of colored sapphire from Japan.
It is women's Tambour Fiery Heart Automata, with a diamond crown and rotating tourbillon. The dial is a combination of champlevé and cloisonné enamel.
The automatic caliber LFT 325 is visible through the sapphire crystal case back. The movement features microblasted bridges decorated with rose stems in rose gold that evoke the dial motif. Openworked sections expose the wheels, while the brilliant 18K rose gold rotor is also engraved and openworked with the brand's signature monogram flowers. It features no fewer than seven animations, activated by a gem-set pushpiece at 8 o'clock. Thorns emerge and extend from the dial, the monogram flowers of the two enameled roses rotate, and the flames around the heart dance before the heart itself opens and reveals the words, "Sweet but fierce." The strap is green alligator with a rose gold buckle like the case.
Potrebbe interessarti anche